Located in North Yorkshire, York is one of the UK's most beautiful cities and one that is steeped in history. Founded by the Romans, the city is one of the oldest in the UK. It is also the birthplace of Guy Fawkes and home to striking medieval architecture and gothic relics of the past. But with strong net yields, the contemporary properties are what make York an attractive location for investors. In this article, we look at
property investments
in York and the benefits of owning real estate in the city.
An overview of the York property market
One of the advantages York has over other UK cities is the ability to invest in short-term holiday properties. With striking landmarks such as York Minster Cathedral, the historic city of York is one of the UK's tourist hotspots. The city welcomes around 9 million visitors annually, bringing an estimated £765 million to the local economy. This presents a unique opportunity for investors looking to buy a property and take advantage of the high turnover of tourists. York also has a large student population, with over 28,000 students. This opens up the door to those looking to invest in
student accommodation
. Regeneration projects are currently underway in the city that could drive more people to York. Naturally, this will increase the demand for quality accommodation.
York Central
is a huge project designed to transform the city and create an entirely new district. The project will deliver 2,500 new homes, over 6,500 high-value jobs and over 1 million sq ft of quality offices, leisure and retail space. It aims to boost the local economy by £1.16 bn. York also has fantastic transport links to other UK locations such as
Manchester
and
Birmingham
.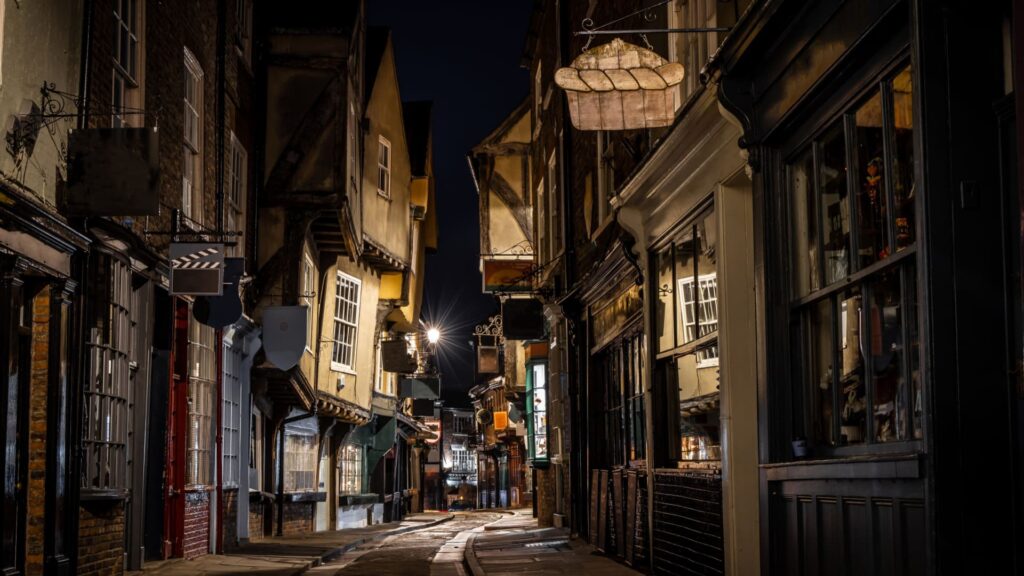 Capital growth
York is often considered the most haunted city in Europe. However, it's not the ghostly goings-on but the property values that could scare investors off at first sight. While property prices in York are typically higher than the
UK average of £296,000
, the city offers excellent investment potential. According to data from
HM Land Registry
, the average house price in York over the last year is just over £324,000 for all property types. Meanwhile, the average price of an apartment in the city is much lower, at just under £197,000. These values are higher than other northern cities, but York has still seen a surge in capital growth. Between 2008 and 2018, house prices in York grew quicker than anywhere else in Yorkshire, rising by a third. More recently, house prices in York have increased more than the UK average. The most recent
UK House Price Index
shows the UK average house prices increased by 13.6% compared to the previous year, while York saw an increase of 14.4%.
Rental demand
One of the key metrics for potential investors in the
buy-to-let market
is rental yield. Rental yield and capital growth are the two driving forces that determine the overall return on investment. York has a strong demand for accommodation, and investors will want to pay attention to the most recent data surrounding the city's rental market. With the supply of quality housing unable to keep up with the current demand, the average rent costs in York have soared, which is good news for property investors. The latest Rental Market Report from
Zoopla
revealed that the cost of renting had increased by 9.8% year on year. On average, it now costs £975 per month to rent in the city. Despite prices going up, demand for rental accommodation remains high. In York, it takes just 11 days from the time it goes on the market for a property to be rented. But it's not only York where rental costs are rising; the entire region is also seeing an increase. According to a separate
report from Hometrack
, the average cost of renting increased across the region, up 10.2% year on year. However, the region's average monthly costs were lower, at £697.
Investing with Holborn
With the demand for properties in York increasing, landlords can benefit from up to 13% net yield on a buy-to-let property. If you are looking to take advantage of the thriving UK property market, Holborn can help. At Holborn, we work with some of the UK's leading property developers. This allows us to offer clients exclusive
investment opportunities
in key locations such as York, Manchester city centre, London and more. We offer expert advice and a wide range of investment options. So, we can help you secure the right investment property based on your needs and goals. Start your property investing journey with Holborn. Contact us using the form below to find out how we can help you.
Speak to a Holborn Assets Property Investment Expert