The UK property market has received a boost as buyers flood the market, undeterred by Brexit.
In July of this year, Bloomberg reported that UK residential property investment had increased by more than 150% in 2018. The sharp increase saw the UK rise to become the fourth biggest European country for multifamily – or residential property – investment.
Bloomberg claimed that investment in UK property might be short-lived as the Brexit deadline looms. However, official figures released in August suggest otherwise.
In fact, the UK property market seems unphased by Brexit, as mortgage approvals reached their highest monthly level in a decade.
A remarkable recovery
The data from UK Finance shows a remarkable recovery for the UK property market.
The main high street banks approved 95,126 mortgages in July, the highest number of monthly approvals since July 2009, according to UK Finance. The trade body said that lending across the residential market amounted to £26.1bn for July. That's a 2.9% increase on the same period in 2018 and the highest since March 2016.
Remortgaging approvals were the biggest driver from growth in the sector. Remortgage approvals were up by 19.4% from the same period a year ago, and new mortgage approvals saw an increase of 16.4%.
Has Brexit affected house prices?
There has been a sharp fall in house prices as Brexit draws closer, but house prices stagnating is normal around this time of year.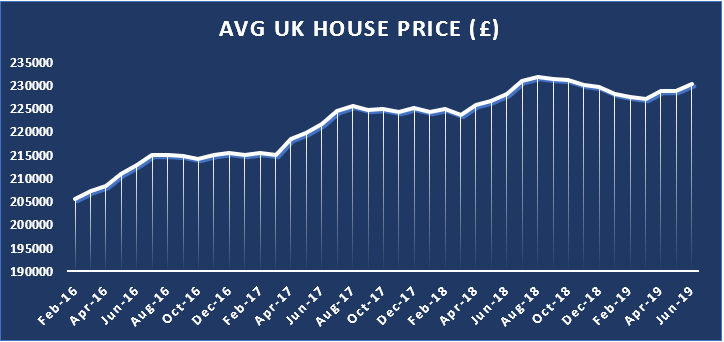 The sharp fall in house prices might seem like a negative, especially for investors, but it actually represents a good opportunity. With house prices taking a dip, investors have the chance to snap up properties in prime, sought after locations at bargain prices. Investments are generally made with a long-term goal in mind, growing your money over time. As with any investment, riding out the storm when things are not going well is seen as part of the process. Property investment is no different. Trends in house prices suggest that despite dips, the market bounces back and strengthens in the long run. If you would like to speak with one of our property experts, contact us using the form below.
Speak to a Holborn Assets Property Investment Expert