The UK is home to over 160 universities and education institutions. With a growing student population, the demand for student housing is also rising.
As a result, student property investment has grown considerably over the last few years.
Here, we look at the student property market in 2023 and the key factors that make it a profitable asset.
What is a student property investment?
There are generally two options for investing in the student property sector.
Houses in multiple occupation (HMO)
A typical buy-to-let student property is known as a HMO. These tend to be residential properties that have been converted into student houses.
Landlords often need a HMO licence if they rent out this type of property.
A property is classed as a HMO if:
Three people live there, forming one household
Tenants share a toilet, bathroom or kitchen
Purpose-built student accommodation (PBSA)
PBSAs offer premium student accommodation, often in city centre locations. PBSA has become the strongest option in the student housing sector in recent years.
Demand is driven by domestic and international students seeking more modern living spaces.
This type of accommodation typically offers amenities such as:
High-quality WIFI
Gyms
Security
Communal spaces
The demand for student accommodation
Since 2013, the total number of students in the UK has grown.
Official data shows that in 2020/21, over 2.7 million students were enrolled in UK universities – an increase of 9% from the previous year.
As the number of people attending university increases, so does the demand for student property. So, what are students looking for when choosing a place to live?
According to a survey by Knight Frank and UCAS, value for money was the number one priority.
Of the 70,000 students surveyed, 93% said that value for money was important when deciding where to live. Meanwhile, 85% noted the quality of accommodation was a factor that would influence where they live.
Ultimately, the survey concludes that students have a preference for high-quality housing. The additional costs are justified if the facilities provide clear and obvious benefits.
Students were happy to pay more rent to have 24-hour security, an on-site gym and a bigger bedroom. However, quality WIFI topped the amenities students would pay a premium for.
All of this points to students shifting away from HMOs and instead leaning more towards PBSA. The COVID-19 pandemic may have also contributed to this.
Of the students living in PBSA, 69% felt positive about their provider's response to the pandemic. It was a different story when it came to private renting, where only 25% were satisfied.
Student property investment – a wise move?
One of the main draws for investors is the excellent return potential via rental income.
Over the five years from 2015, student housing outperformed non-student properties in terms of mean rental yield.

HMOs allow landlords to have multiple tenants paying rent for their rooms. Converting a property to include more rooms means more paying tenants and a greater rental yield.
PBSA has also allowed investors to tap into the demand for higher-quality student accommodation. The higher rental prices have made them a good asset for investors.
This might explain the increase in investment within the PBSA sector. According to Savills, there was £5.77 billion invested last year. However, potential student property investors shouldn't write of HMO just yet.
HMOs generally have a lower entry point. There is also the potential for better capital growth.
In most cases, a HMO is a residential property, albeit converted for student tenants. These properties often outpace their purpose-built counterparts in terms of capital growth.
There is also a strong demand for properties in student towns and cities. With new and returning domestic and overseas students each year, the occupancy rate of these rental properties tends to remain high for both HMO and PBSA.
Where should you invest in student property?
The best locations all come down to the type of property.
For HMO properties, areas with a single university and less than 25,000 students typically saw landlords net the best rental returns.
According to research by Paragon Bank, most of the top locations were also found in the North.
Derby topped the list with a rental yield of 8.67% and an average rental income of £23,544. The main university in the city had 21,285 students during 2020/21.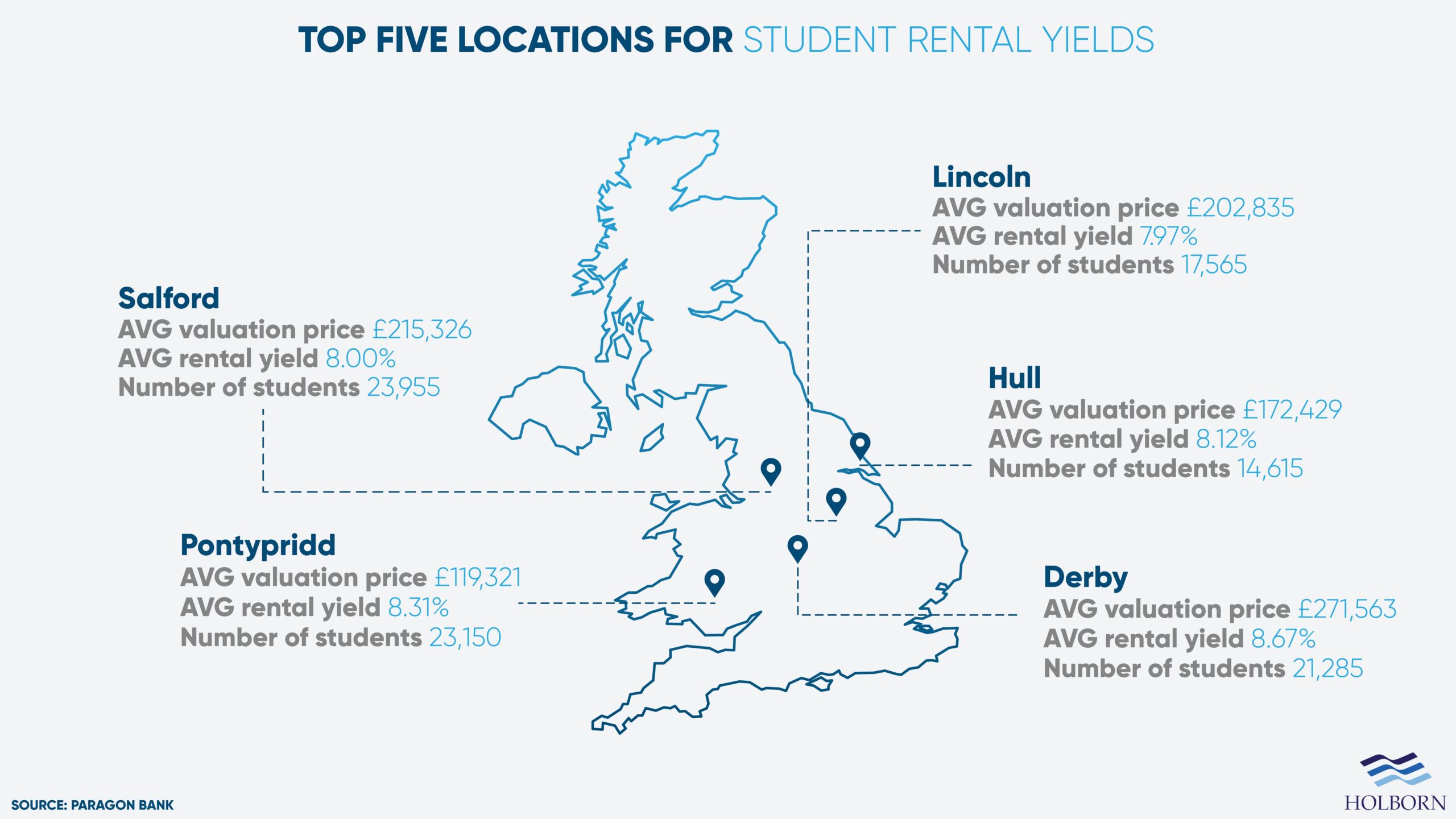 There were some exceptions in the top ten list. Rental yields in Liverpool showed strong returns for investors at 7.88%. Unlike other cities on the list, Liverpool has a large student population of around 63,000 across three universities.
So, why are the smaller towns and cities better for HMO properties? The main reason is competition.
In bigger cities, there are often more PBSA, which we see an increasing number of students lean towards.
Get started with Holborn
Property has proven itself to be a resilient and reliable investment. The UK student property market certainly offers some exciting investment opportunities.
Both HMO and PBSA have their pros and cons. Choosing the option that best suits your needs and goals is essential. That's where we can help.
Holborn works with some of the leading property development companies in the UK and overseas. Due to our strong partnerships, we are able to offer clients exclusive investment opportunities in key locations.
Our end-to-end service also makes the process streamlined and stress-free.
To find out how we can help you secure the right investment, contact us using the form below.
Speak to a Holborn Assets Property Investment Expert